San Antonio Physiotherapy: Take the First Step to Healing Today!
Are you struggling with limited mobility following an injury, stroke, illness or disability? Physiotherapy restores movement and function that has been compromised by an illness, injury or disability. At Phillips Chiropractic, our skilled San Antonio chiropractor helps patients regain a fuller range of mobility through manual therapy, corrective exercises, and lifestyle modification. We follow a "whole person" approach to chiropractic care and therapy. This means we take into account a patient's general lifestyle, fitness levels and long-term health goals when creating a custom treatment plan. Through personalized care, education and awareness, we empower our patients with the knowledge, skills and resources they need to take control of their health.
What to Expect from San Antonio Physiotherapy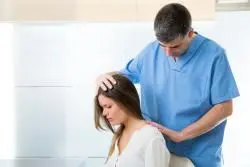 During your first physiotherapy appointment, our San Antonio chiropractor will conduct diagnostic exams evaluating your overall health and determining the root cause for your pain or injury. We will explain to you how your musculoskeletal system works together and how physiotherapy can best treat your injury or pain. For example, if you have recently been in a car accident, you may have sustained a whiplash injury or other neuro-musculoskeletal injury. The ligaments may have been stretched beyond their normal range of motion, leading to soreness and stiffness. Gentle, corrective exercises can safely bring a full range of mobility back to the body while supporting the natural healing process.
If you are suffering from back pain, a range of treatments can help ease your soreness, strengthen your core muscles and improve your posture. Exercise and activity are two critical means for reducing back pain. Our San Antonio chiropractic team will work with you to find new, safe ways to move the body and avoid unnecessary stiffness. Daily movement improves circulation, which is vital to delivering fresh, oxygenated blood to injured soft tissues and flushing out toxins. Depending on your type of injury, you may benefit from exercises that include coordination, balance and strength training.
Posture improvement is also an important part of San Antonio physiotherapy. Poor posture can compress the lumbar spine and strain the cervical spine, adding extra pressure that increases sensitivity and exacerbates pain. Simple ergonomic adjustments can improve your posture and reduce pain. For example, adjust the height of your office chair so your feet are flat on the ground. Move your computer keyboard closer to your desk chair so you elbows are at a 90-degree angle. These changes alleviate extra, unnecessary stress on the spine and joints, and improve overall health.
Physiotherapy, Nutrition and Wellness Care: Take Control of Your Health Today
At Dr. Phillips Chiropractic, our physiotherapy treatments are one component of a comprehensive chiropractic care program. In addition to physiotherapy, patients benefit from nutrition counseling and lifestyle/wellness advice. Great nutrition is about far more than just following a diet plan – it is adopting healthy eating habits that nourish your body from within. A diet rich in antioxidants may also help you heal faster after injury by reducing inflammation.
Take the first step to healing today: call (210) 545-1144. Our doctor and friendly staff look forward to meeting you.